OMSHOES Horseshoes Tournament
Next Tournament:
Sunday, April 28, 2013
Location:
Signups: 9 -11:15 am – The Pennant Bar and Grill, 2893 Mission Blvd San Diego, CA Google Maps Link
Tournament: Mariners Point, Mission Bay Google Maps Link
Entry Fee:
$30 players, $20 non-players and OMBAC members. Lunch and Beverages included.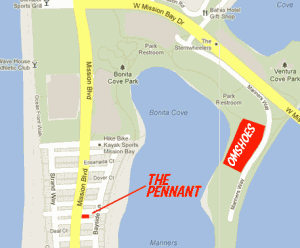 Tourney Starts @ 12:00 noon
Tournament Details:
Blind Draw Format (Mixed)
Round Robin, followed by Single Elimination Tournament, Cash prize.
THE PLAYING AREA AND BEER GARDEN IS AT MARINERS PT.
Contact Tournament Staff:
omshoes@ombac.org
Proceeds from event will be donated to Helen Knoll Foundation.