World Championship Over the Line
July 15th, 16th, 22nd and 23rd
Get ready to kick off your summer in style with the OMBAC Over the Line World Championships! Join us on Fiesta Island on July 15-16 and the 22-23 for non-stop partying, playing OTL, and drinking ice-cold beer with your friends. The atmosphere is electric as teams from all over the world come to compete for the title of OTL World Champions. This is the ultimate summer event, where the sun, sand, and sea meet the perfect party vibe. So grab your friends, your favorite beach attire, and come join us for the most exciting weekend of the year! The OMBAC Over the Line World Championships is the party you don't want to miss. Register now and get ready for the fun!
Check out all of our Events.com registrations here…
---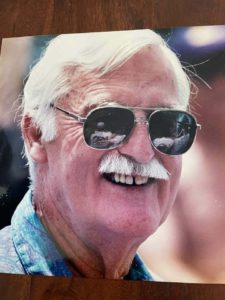 Mike Curren left early on the morning of December 30 on what he promised to be "the ultimate road trip."  As per his usual, he left no hint of his route or destination or even how long he planned to be away.  I'm guessing that he'll be visiting long-time friends Ronnie "The Fox" LaPolice, Weasel, Bob Dawn, Von Ton the Atom Bomb, Pell Mell, and the Rag Man en route before meeting up with his parents and myriad other friends (whose names he could never remember but they always had a good time whenever they met).  There might be a few casinos and racetracks to be visited before reaching the final destination which will probably be a broad beach where the Over-the-Line courts are already set up.  The Good Lord knows that there will be drinking on that beach and the BCs will be iced and served without limes.
Mike was a proud child of Mission Beach, attending Mission Beach Elementary before moving on to Pacific Beach Junior High and La Jolla High School (Go Vikings!).  His studies at San Diego State were interrupted by the Korean War although he was fortunate because of surveying training to spend his time in service mapping the Philippine Islands.  Returning to San Diego, he was able to earn his degree in civil engineering although it took the assistance of a fellow bowler who happened to be the Dean of Admissions and Records at SDSU to get it posted.
Mission Beach was different then; it was a place where folks without a lot of money lived.  During the Depression and war years, most parents were doing their darnedest to keep their families afloat and the kids were left to their own devices.  Friendships and competitions abounded and were long-lived.  Over-the-Line was just a game to be played between body surfing and volleyball.  It was the interest in volleyball that prompted the establishment of the Old Mission Beach Athletic Club (so members could get into the better Southern California beach tournaments) but it was Over-the-Line that took hold as a tournament that welcomed players of all levels, genders, and abilities from around the world.  It helped if the player or fan had an irreverent sense of humor.
Mike was proud of his association with OMBAC as a founding member and served in all club offices and roles from the presidency to the grunt work (which was frequently the same).  He was recognized as the founder and chief promoter of the World Championship Over-the-Line Tournament which grew from eight teams to more than 1300.  But he would be the first to tell you that he was only one member of OMBAC and there were many, many more who were not recognized but who contributed significantly to any and all of OMBAC's sponsored events.
Mike was a licensed land surveyor who happily plied his trade for almost seven decades.  The son of surveyors (his mother was the first female land surveyor licensed in California), he was an avid student of San Diego's history and enjoyed being informed by the land and the people.  He wasn't quite so fond of the bureaucracy.
Mike was fortunate to travel, visiting countries throughout the world — particularly if they were more out-of-the-way.  Many trips were taken as part of rugby tours with the OMBAC team; others with friends who shared in the spirit of adventure.  Disneyland was not on his list.
Hoping to get postcards from Mike's current road trip to worlds-beyond-imagination (but not holding their breaths) is his son Jamie, daughters Amy (Ed Chevalier) and Shannon (Yossi Langer), grandsons Isaac and Elie, brothers Pat and Terry, and erstwhile companion, the ever-lovely Helen Duffy.
In Mike's mind, he's just gone off on another adventure so there's no reason for services.  He didn't like them anyhow.  If you would like to make a donation in his memory, donations are welcomed to support OMBAC's charitable endeavors (of which there are many) at Angels of OMBAC at https://angelsofombac.com.  If you prefer something simpler, just pick up a piece of trash from the beach, meet a pal, meet a stranger, buy a drink, have a laugh, make a friend and enjoy your time together.  Mike never had any fun.
---
---
About
The Old Mission Beach Rats sponsored volleyball tournaments that soon needed better organization to compete for playing dates with Los Angeles beaches. So, in 1954, the Old Mission Beach Athletic Club was born. The original membership was less than twenty and the annual dues were the same for over forty years. OMBAC HISTORY
OMBAC's official beginning was in 1954, but its roots sprouted years before. From friendships of the late 30s, 40s, and early 50s, the spirit and attitude of OMBAC evolved in Old Mission Beach. The common denominator was a strong desire for having fun!
OMBAC sponsored volleyball events coached youth flag football and had it's first Coming Out Party and Over-The-Line Tournament. All was good until 1958 when the Old Mission parking lot closed, the lifeguard station moved, and members had no central meeting place. The Club drifted apart until a new location was established in South Mission.
In 1964, the Club reorganized and a new vitality and determination were kindled. The Over-The-Line Tournament had survived because of a few die-hards.
Presently, OMBAC is a San Diego, California based 501(c)(4) not-for-profit organization with 440 members. OMBAC continues to enjoy the respect and admiration of the community. Focused on serving amateur sports and youth athletics OMBAC enjoys unmatched leadership. If not for the dedication of its members and the unselfish gift of their time, OMBAC would no longer exist.
WE NEVER HAVE ANY FUN!