Ms. Emerson  2022 Carly Chance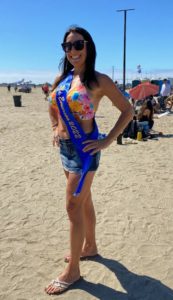 Carly's a San Diego native and currently splits time between S.D. & Temecula. She is employed as an Escrow Officer and does Business Development for Elite Escrow Services of San Diego.   She enjoys doing some of the local activities such as bay bike rides, golf, shooting pool, walks, and doing healthy meal prep. She has played OTL in the past but is not a regular player.   Her favorite sports are football & baseball, and her favorite teams are the Chargers and Padres.
Yeah, they're not having any fun being Emerson's…nope, no fun at all.
Interested in being a Ms. Emerson contestant?
If you or a friend are interested in being Ms. Emerson, email us your Name, Age (21+), and Contact information: missemerson@ombac.org or stop by the Ms. Emerson lounge during the first weekend of the annual Over-The-Line Tournament to sign up.
Contest Information
The Ms. Emerson contest is a long-standing tradition with Old Mission Beach Athletic Club and the Over The Line tournament and every year at the contest we have past Ms. Emerson winners that attend for nostalgia and to see who will be the next Ms. Emerson to be crowned.
The winner will be elected by the voting members of the Ms. Emerson Committee on the second Saturday of OTL to begin her exciting and rewarding year.  After the one-year term, she is always welcome to return to OMBAC meetings and events. Once you are a Ms. Emerson, you are a Ms. Emerson for life!
The Ms. Emerson contest is a legitimate contest and does not involve or tolerate any lewd or inappropriate behavior from contestants, staff, or tournament attendees.